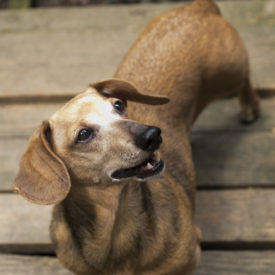 Chloe
Chloe is one of our cherished Sanctuary dogs.  Chloe is not available for adoption.  For information on our adoptable pets, please visit Adopt-A-Pet:
https://www.adoptapet.com/adoption_rescue/85993-the-nest-bloomington-indiana
About 7 years ago Chloe was taken to a local shelter when her humans moved.  She was terrified there and bit everyone who tried to touch her.  The Nest took her from the shelter but Chloe never entirely came out of her shell and is still very skittish around and leery of strangers.  Since the only person she fully trusts is her foster mom, The Nest decided to not put her up for adoption and instead to let her live at The Nest Sanctuary.  When Chloe is in her trusted environment she is very happy.  Her favorite thing to do is dig holes in the yard!
For more information about The Nest Sanctuary, please visit the "Sanctuary" link from our Main Menu, or click on this link:
http://www.inthenest.net/the-nest-sanctuary