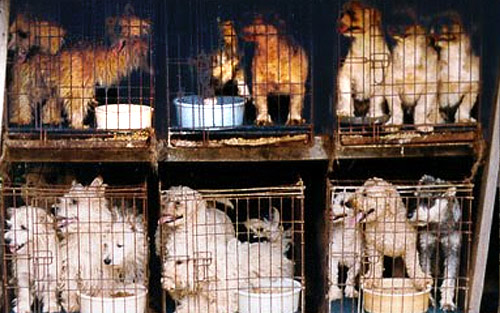 A few years ago, the founder of the nest was involved in getting over 100 dogs out of a puppy mill in southern IN. This experience was an eye opener and is one of the reasons why rescue organizations like ours exist. Whether it is a puppy mill that breeds hundreds of dogs or a smaller back yard breeder, none of them care about the dogs and provide them only enough to survive so they can reproduce and bring money. What many people don't know is that puppies at pet stores all over the US come from such breeding facilities (see picture below.) The parents of the puppies usually spend all their lives in very small and filthy cages with no socialization and mostly with no veterinary care. When they are too ill or old to reproduce, they are destroyed by the breeder.  We strongly discourage buying dogs or cats from pet stores as in doing so one supports this despicable business.
If you would like to learn more about puppy mills and where the famous puppy in the window comes from, click on the links below.
http://www.humanesociety.org/issues/puppy_mills/
http://www.nhes.org/articles/view/754
http://www.thepuppymillproject.org/
The three dogs below, Ilse, Lotte and Lilli came from a puppy mill.  All three of them were physically and emotionally damaged. All three of them stayed at the nest.
Ilse, the little red Dachshund had paw pads so swollen from walking in a wire cage for years – she did not know how to walk on a regular ground.  She actually never learned entirely to do so.  She was so terrified of people, she would urinate and defecate when someone tried to pick her up or even attempted to do so. She eventually warmed up to the founder of the nest who kept her in her care for the rest of her life.  She never trusted anyone else.  Ilse passed a way 3 years ago.
Lotte was the least scared one but it took her about two years to learn to trust people.  Of the three she seemed to have had the least damage.  Lotte was adopted by the founder of the nest and is living a very happy life.
Lilli was severely neglected and extremely terrified of people when she first came to us.  It took her a very long time to warm up to her care taker and to this day she is scared of everyone but her.  Lilli also has a profile in our nest sanctuary section.